Deer Creek Project History
Some past and ongoing mapping projects:
City of Chico Community Wildfire Protection Plan (CWPP) – 2021-2022
DCR developed a technical approach to map wildfire hazards and model potential fire spread within the urban area of Chico, California. DCR data scientists developed fire behavior model inputs from aerial LiDAR point cloud data. DCR conducted public outreach, surveys, and field mapping, and authored a final report.
City of Chico Vegetative Fuels Management Plan EIR – 2020-2021
DCR led the project's wildfire hazard assessment efforts, using LiDAR survey data, aerial photos, and extensive fieldwork to map wildland vegetation, characterize fuel loading, summarize potential fire behavior, and develop vegetation management objectives for lands owned and managed by the City of Chico. DCR developed a burn plan to increase use of prescribed fire in management of City of Chico-owned lands.
Big Chico Creek Forest Management Plan – 2020
DCR provided fire behavior and prescribed burning specialists for planning and design of a 1,500-acre fuels reduction and forest health project in the Big Chico Creek Watershed, near Forest Ranch, Ca.  This project is a collaboration between Butte County Fire Safe Council, CSUC's Big Chico Creek Ecological Reserve, and several local landowners. This CEQA document will support partial implementation of a Forest Management Plan, also to be developed by BCRCD, covering 7,500 acres of the watershed. DCR mapped wildfire fuel loading conditions and developed large prescribed burning units in ponderosa pine and black oak forest areas.
Community Wildfire Risk Pilot Project – 2019
DCR provided a subject matter expert on a CAL FIRE Forest Health Program-funded project that seeks to reduce wildfire risk by providing better analytical methods and information for planning fuel treatments and implementing defensible space in the Wildland Urban Interface (WUI) and intermix.
Wildfire: Assessing and Preparing for Risks under Climate Change – 2019
The California Energy Commission is funding applied research and development to fill gaps in knowledge of fire science and apply that new knowledge to improve models to assess wildfire risk for grid operations and planning. DCR is contributing to the Extreme Weather & Wildfire Team, delivering advice on fire progression and fire weather events from an operational/field perspective; the Fuel Mapping & Fire Physics Team, delivering advice on field conditions during megafires; and the Wildfire Forecasting Team, delivering advice on the integration of risk forecasts into fire management and wildfire mitigation plans for investor-owned utilities.
Lick Observatory Wildfire Safety Project – 2016-17
Client: University of California
DCR designed a wildfire safety vegetation management project, helped select a contractor, and supervised implementation. This project cut and removed hazardous wildfire fuels around a major mountaintop observatory outside of San Jose, California.
*This project was tested when large wildfires burned across the area in 2020; all of the major buildings at the Observatory survived with minimal air support.
Oroville Dam Spillway Response – Ongoing
Client: California Department of Water Resources
DCR has been providing rapid-assessment mapping on the Oroville Dam project site since the Spillway emergency began in February 2017. We have created maps for the original emergency response teams, and have been supporting geological surveys of the bedrock beneath the spillway. Field geologists bring their field data to us, and a DCR geologist and mapping experts turn their field notes and hand-drawn maps into a high-resolution mapping dataset.

Klamath River Prescribed Fire Training Exchange (TREX) Ongoing since 2014
Client: Mid-Klamath Watershed Council
We are part of the core team organizing and executing annual prescribed fire projects in the Klamath Mountains. We help provide participants and communities along the Klamath River with experience and training on how to plan and implement controlled burns, protect communities from wildfires, and prepare for managing wildfires for resource benefits.
Providing aerial observations during a prescribed burn in the Klamath Mountains (more footage here).
Western Klamath Restoration Partnership – 2015-2016
Client: Mid Klamath Watershed Council
This project used airborne LiDAR data to characterize forest canopy structure for about 25,000 acres in the Klamath Mountains near Somes Bar, California. This mapping will be used to design thinning and prescribed burning projects to improve community and firefighter safety across this fire-prone part of the planet.
Upper Feather River Watershed Integrated Regional Water Management Plan –
Client: Plumas County and Uma Hinman Consulting
We provided mapping and website design to support a major planning project to establish priorities for water management-related projects across the watershed that provides 75% of the water used by the California State Water Project. One of our major tasks on this project was the design of a map-based document library.
Lake Tahoe Basin Community Wildfire Protection Plan Update – 2015
Client: WildlandRx
Cartography showing completed and proposed hazardous fuels reduction projects for fire districts throughout the Lake Tahoe Basin.
Sierra County Community Wildfire Protection Plan – 2015
Client: WildlandRx
We assembled a project GIS, facilitated community collaborative mapping meetings, edited community-provided mapping data, and produced planning and final report maps.
Integrating Traditional Ecological Knowledge into Community Wildfire Protection Planning – 2014
Client: Orleans/Somes Bar and Happy Camp Fire Safe Councils
We facilitated collaborative mapping efforts with agency staff, Karuk and Yurok tribal members, and community practitioners of forestry. These meetings identified areas where large-scale cultural burning projects could improve acorn production, open up traditional travel routes, improve elk habitat, and protect communities along the Klamath. In addition, we participated in the 2014 Klamath River 'TREX' community-based prescribed burning training, filling mapping support, ignition, and firefighting roles.
Community Wildfire Protection Plan for the Yuba County Foothills – 2014
Client: Yuba Watershed Protection and Fire Safe Council
Mapped wildfire hazard, facilitated collaborative mapping meetings, and established and prioritized hazardous fuels reduction projects for communities in the foothills and mountains of Yuba County, California.
Petroleum Pipeline Right-Of-Way Survey Tool and Data Management Workflow – 2014
Client: Kinder Morgan Co.
Developed a tablet-based mapping workflow and data management system to rapidly assess conditions along a major interstate gas pipeline.
Gold Mountain Community Wildfire Hazard Assessment – 2014
Client: Gold Mountain Homeowners Association
This project mapped wildfire hazard on 400 parcels in Eastern Plumas County, California, and established priorities for forest thinning related to wildfire hazard reduction.
Grizzly Ranch Community Wildfire Hazard Assessment – 2014
Client: Grizzly Ranch Homeowners Association
This project mapped wildfire hazard on 300+ parcels in Eastern Plumas County, California, and established priorities for wildfire hazard reduction with thinning as a treatment.
McNabney Marsh Vegetation Mapping Project – 2014 and 2001
Client: Mountain View Sanitation District
Used current Infrared aerial photography and field botany data to create a vegetation map for a 200-acre marsh in Martinez, CA. Conducted accuracy assessments, rectified aerial imagery to map-scale, and authored a discussion for the final report.
Document Library and Data Management for the CABY and Upper Pit River IRWM Projects – 2011-2012
Client: Sacramento River Watershed Program
Westwood Millsite Reuse Survey – 2011
Client: Mountain Meadows Conservancy
Used 1941 and current aerial photography to design a poster showing the locations of buildings and facilities at the historic Westwood, CA, Mill Site, and current conditions. This work and our aerial photography accompanied a report that developed strategies to remediate potential pollution at the site, and convert the property to a more beneficial use.
Butte Creek Aerial Atlas
Client: Friends of Butte Creek
Captured and geotagged aerial photographs showing landscape and infrastructure features along Lower Butte Creek, in California's Sacramento Valley.
Projects that our staff have worked on outside of DCR
Lassen Foothills Fire Management Plan – 2004/5
The Nature Conservancy, Dye Creek, California
Contact:  Richard Reiner – 530-343-7085
Mapped vegetation condition and developed fire management recommendations to reduce noxious weeds and benefit native species on the Nature Conservancy's Lassen Foothills project area (Eastern Tehama County, California).  Conducted oblique aerial photography missions and ground surveys and collaborated with USDA Forest Service to develop landscape-scale strategies for effective wildfire management across the 900,000-acre project area.
Almanor Basin Watershed Interactive Mapping – 2005
Sierra Institute for Community and the Environment
Contact Jonathan Kusel, Executive Director – 530-284-1022
Used GIS software and wrote code to create a map-based interactive watershed information system for the Lake Almanor Basin, in Northeastern California.  The intention of this project was to allow residents of the area to access information pertaining to the lake's water quality.  To that end, we installed our interactive watershed tour on public computers hosted at the Chester Library.  The final product is available for download (Google Earth software required) at the Sierra Institute's website.
Cameron Park Community Wildfire Protection Plan – Summer 2006
Eldorado County Firesafe Council, California
Contact:  Barry Callenberger – 530-644-6513
Our staff conducted parcel-level surveys for over 7,500 individual homes in the Sierra Nevada Foothills.  Work was conducted from a moving vehicle using GPS and a laptop running ArcGIS.  12 attributes were collected for each structure, including: Building and roofing materials, vegetation attributes, fire hazard, and firefighter access. Our staff surveyed both sides of the road at once, and generally mapped 1,000 structures per day.  Survey results (delivered to county employees via open-source interactive web-based maps) were used to prioritize code enforcement actions.
Online GIS and Asset Management System – October 2008
Private client – Location: Monterey, California
Our staff developed an interactive GIS for a 5,000-acre property. This involved GPS mapping of all anthropogenic features on the property, digitizing paper base maps, reprojecting CAD surveys, and writing scripts to automate the production of Google Maps' digital overlays.  Approximately 4,000 digital photos were geotagged and associated with attribute data for 2,800 datapoints.  Our staff mapped all highway signs on approximately 15 miles of public road; capturing sign-type, location, condition, and size information using Trimble GPS units with laser rangefinders.
*Final product was delivered as interactive Google Maps layers – users can easily click points on the map to see photographs and descriptions for each feature.
Fuels Management Planning for Lick Observatory – Mount Hamilton, California
Client: University of California
Developed a plan to reduce wildfire hazard to buildings and infrastructure across 45 mountaintop acres East of San Jose, CA. Wrote technical materials for a $500k FEMA Hazard Mitigation Grant. Upon FEMA award, monitored the implementation (hand crews).
Dynamic image from http://northtreefire.com – click to zoom and pan.
Digital Atlas for the Sacramento River Watershed – November 2007 – November 2010
Client: Sacramento River Watershed Program
Contract Administrator – Peter Tittmann – Technical Director (707) 849-4135
Members of our staff designed, programmed, and implemented a regional enterprise GIS system for watershed coordinators, agency administrators, and the general public for the 27,000 square mile Sacramento River Watershed Program. This project included the development of spatially-enabled web-based photo/document management, data export tools, and FGDC compliant metadata cataloging tools.  User-contributed photos and videos are available via Google Maps interface at http://sacriver.org.
*The online GIS features over 200 layers including current aerial photo image catalogs, historical maps, and LANDSAT imagery.  The site is online at http://srwp.org/imf/imf.jsp?site=SWIM
Three views of the Colusa Flood Bypass – from 'SWIM' mapping website.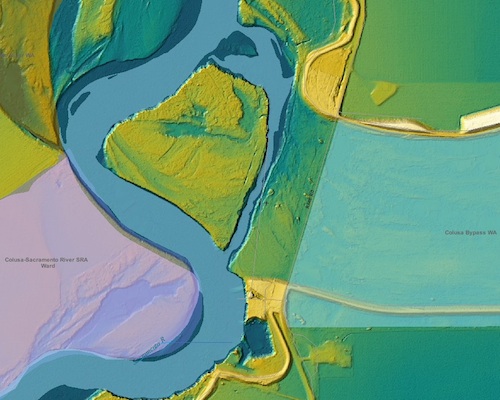 LIDAR terrain model of Colusa Bypass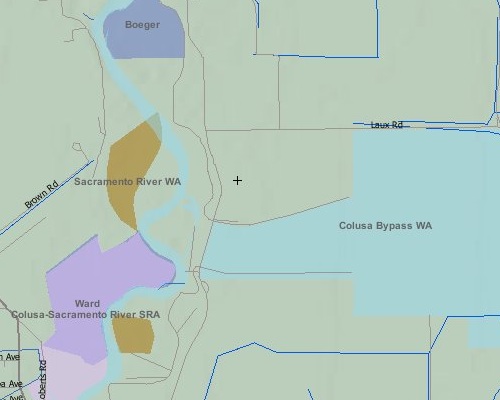 Land Ownership around Colusa Bypass


LANDSAT image of Colusa Bypass after 1997 floods
Sacramento River Tributaries Projects 1998-2000
CSU, Chico Research Foundation
Provided GIS and GPS mapmaking support to CALFED-funded projects including wildland road erosion assessments, wildfire and fuels management planning, and watershed (existing conditions) reports for the Big Chico, Butte, and Deer Creek Watersheds.  Tasks included oblique aerial photography, map editing, landowner outreach, and public speaking on watershed issues in Butte and Tehama Counties, California.  General emphasis was on evaluating current conditions and assessing potential threats to water quality and salmonid fisheries in foothill watersheds between Battle Creek and the Feather River.